Displaying 1 - 3 of 3

In thinking about mixed ethnic identity, what does it mean to be a "mixed blessing?" Use these two reflections (alone or in groups) to ask this question and sit at the feet of our Brown, multiethnic, Middle Eastern/North African savior, listening to what he has to say about how we have been made for good.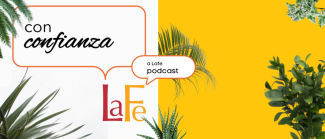 You've been entrusted with a meaningful ministry. Now, what?!? Featuring long-form interviews with LaFe Leaders and friends, we dig into relevant topics for campus ministry and Latino leadership. At the intersection of Christian faith and Latino ethnic identity, God has a gift for you. // Hosted by Steve Tamayo. Theme music by Alex Waters. Brought to you by InterVarsity's Latino Fellowship (LaFe)

Invite your social media feed into a deeper, more contemplative experience of Jesus with these videos. Each video features a clip from our Digital Camino, captions, and great imagery. Wouldn't you love to have more than announcements to share on Instagram?