Displaying 1 - 3 of 3

God is at work all around us in the lives of our friends, acquaintances, and strangers. This resource will walk you through the steps to create a communal prayer wall and help you grow in love for the people on your campus.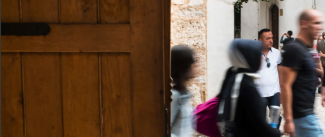 Want to start an international small group on your campus? This resource includes a collection of trainings, handouts, and Bible studies to equip you to develop an international small group.

If you haven't created your Instagram account for your chapter, we have a short tutorial to get you running. The example tutorial is for International Student Ministries but can be applied for any ministry chapter.