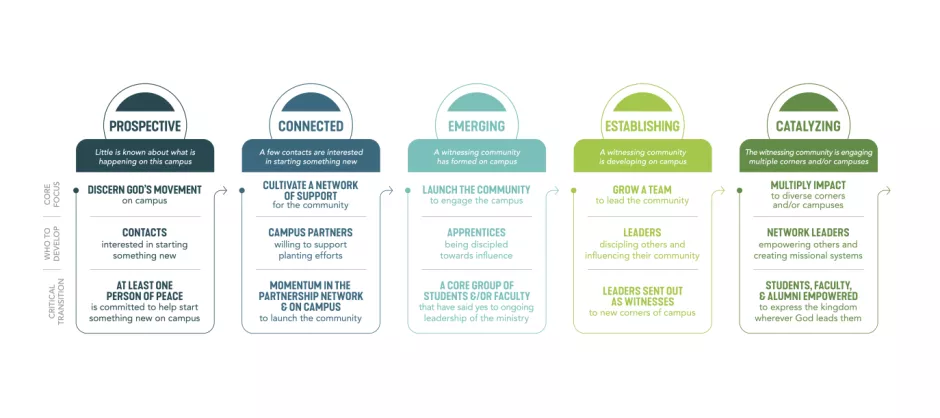 The Campus Continuum 
The Challenge
Navigating the world of campus ministry is no small task. The path to establishing and advancing a witnessing community on your campus might feel ambiguous and a little intimidating. As you think about your ministry, you may have wondered: How do we translate our passion into action? Where do we currently stand in our journey to reach the campus and how do we build momentum? What resources are best suited for our current context? How do we deal with setbacks and challenges? 
Ministry leaders frequently share the desire for more clarity and cohesion in our campus ministry strategies. That's what inspired us to create the Campus Continuum. 
The Campus Continuum provides campus ministry leaders with a clear and strategic framework to:  
Understand the growth and developmental journey of a witnessing community. 
Assess where your community currently is in its journey. 
Provide a roadmap for future growth and direction. 
How can the Continuum help? 
Though this tool is still a prototype primarily designed with campus staff and staff directors in mind, we are making it available because we think it can be helpful for anyone who is passionate about growing their ministry. It aids in:  
Understanding Over Guesswork: Communities are complex and often don't follow a straight path. Instead of guessing, leaders can lean on the Campus Continuum's structured approach to navigate the complexities of ministry growth and identify the next steps for their community. 
Strategic Clarity: By identifying your current stage, you can better strategize for the future. This includes setting clear objectives, determining leadership actions, focusing on discipleship, and setting goals for community growth. 
Cultivating Momentum: Use the Continuum to energize your team, celebrate milestones, and pray for God's guidance and direction moving forward. 
View the Campus Continuum (PDF)
View the Campus Continuum Minimalist Version (PDF)
Diving Deeper: The Anatomy of the Continuum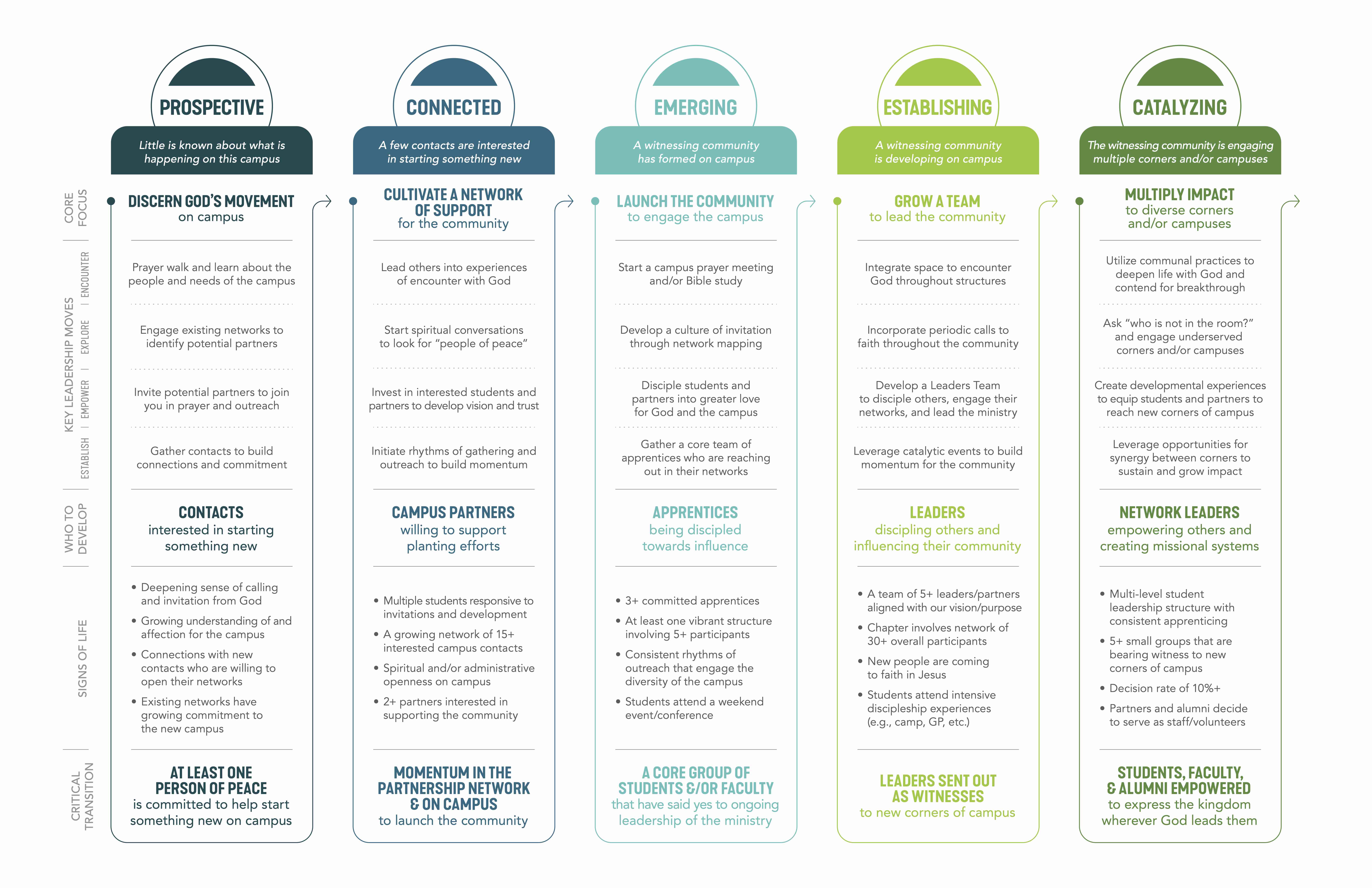 The tool is constructed around five distinct stages of community growth: 
Prospective 
Connected 
Emerging 
Establishing 
Catalyzing 
Each stage is enriched with specific categories: 
Definition: Snapshot of the stage.
Core Focus: The primary objective. 
Key Leadership Moves: Tactics to accomplish core focus. 
Who to Develop: Identifying who to invest in. 
Signs of Life: What does "success" look like? 
Critical Transition: The criteria for moving forward. 
Of course, community growth isn't always a linear, straightforward journey. Even with our best intentions, our ministries can sometimes face setbacks – a normal phase in any community of faith. While the Continuum suggests a progression (left to right), it's also designed to assist when revisiting the previous stages (right to left) to regain momentum. No matter where your community is, the Continuum's aim is to provide clarity – answer, "where are we?" – and to serve as a guide to help us move forward in step with God's spirit together! 
Putting It into Action: Practical Application 
While the Continuum is still in beta testing, we're hopeful that these 3 suggestions of how to use it will give you the clarity you need to move your witnessing community forward:   
1. Assess Your Reality 
A primary strength of the Continuum is its diagnostic capability. Unless you know where you are, it is difficult to figure out where you need to go! Here's how you can use the Continuum to "stage" your ministry: 
Start with Definitions. Which statement best describes your ministry? 
If you're still unsure, you can use these three options to stage your ministry:

Examine the "Core Focus" and "Key Leadership Moves" for clues. If you're between two options, the earlier stage is likely best. 
Reflect on the "Signs of Life." While these categories are not requirements, they are intended to be broadly descriptive of the "middle" of a given stage. Unless you've seen multiple "Signs of Life", you are probably in the earlier stage.  
Use "Critical Transition" as a "finish line." If it hasn't been reached, you're still in that stage. 
2. Formulate your Strategy 
With clarity on your stage in mind: 
Use "Core Focus" as a quarterly or semesterly strategic focus. 
Guide and prioritize your on-campus activities with the "Key Leadership Moves." 
Tailor your discipleship with the insights from "Who to Develop." 
Pursue the "Signs of Life" as community goals. 
Prayerfully Plan towards how you might intentionally cross the "Critical Transition" benchmark. 
3. Drive Ownership and Sustain Momentum: 
The Continuum can help you cultivate broader ownership and momentum on your campuses and beyond: 
Use the Continuum for prayer and reflection about God's work on your campus over the last year or across other campuses. 
Consider network-mapping to identify "prospective" or "connected" corners of campus (or entirely new campuses!) where God might be inviting you to start something new. 
Leverage "Key Leadership Moves" to create sustainable group and explore new opportunities. 
Pray and celebrate what God is doing on your campus and beyond! 
For Area Directors: consider working with your staff team to "stage" every campus (not just the ones where we have existing work) in your area and/or network map for new leads on new campuses!
View the Campus Continuum (PDF)
View the Campus Continuum Minimalist Version (PDF)
Stay Updated & Contribute to the Campus Continuum! 
The Campus Continuum is an evolving tool, still in its beta phase. As we aim to enhance its effectiveness, we'll be rolling out improvements and adding new resources. 
Interested in receiving the latest updates, accessing new resources, and providing valuable feedback?