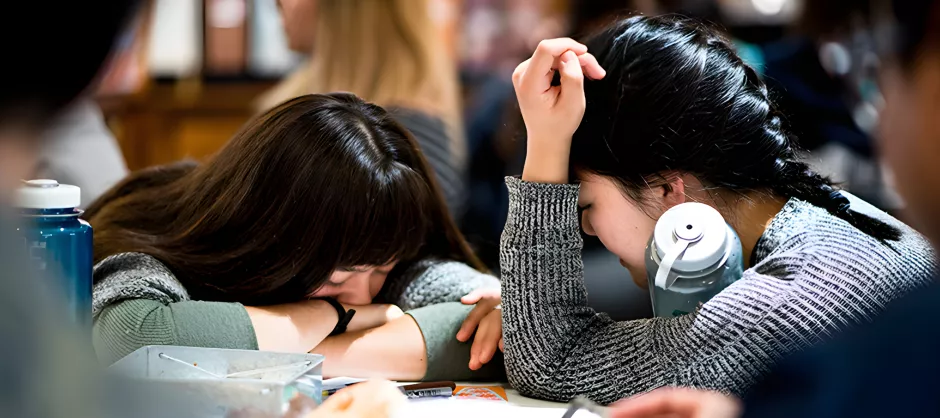 Creating a Communal Prayer Wall (Prayer Network map)
God is at work all around us in the lives of our friends, acquaintances, and strangers. As we pray, we grow in love for the people on our campus. We want to see people as being made in the image of God, asking God how he feels about those around us.
As God gives us more of his heart, we'll be transformed with increasing love and courage. Creating a Communal Prayer Wall (or Prayer Network Map) can be one step on our journey to grow to be more like Jesus. Together, let's ask Jesus for our prayer assignment. 
---
Saying Yes, Growing in Love & Courage
Kennedy used to hide Jesus from her friends, even though they were housemates. She didn't want to offend Chloe. But one day things changed. Kennedy took steps to become a courageous witness, and she was transformed. So was Chloe. As you watch the video, think about yourself and other InterVarsity members.
How could God transform you like Kennedy through outreach now and this fall? 
What do you like about Kennedy's story?
Where did Kennedy show bravery? Describe how she stepped into this God moment.
---
Getting Your Prayer Assignment from Jesus: Creating a Prayer Wall
Gather together with your student leader team, small group, or other InterVarsity friends. Get a large piece of paper (a giant Post-it is ideal) and three different colored pens (black, blue, red) to share.
---
Make Three Columns
List all the people who consider themselves a part of InterVarsity in black marker.  
List all the people you know on campus in blue. Can't think of anyone? Think about your week; who do you see on your way to class? Who do you sit next to? Who do you live near? What about the people in the clubs and organizations you belong to?
List at least one person you avoid in red. (Tip: Using initials instead of names for this one may be more comfortable.)  
---
Sign Up to Pray
Review the prayer wall and take a few minutes to ask God who he's calling you to pray for. Have each person put their initials next to the people they'll be praying for. Everyone should pick someone they know in blue and at least one person in red. Have everyone take a picture of the prayer wall.
---
Pray Together
Gather around your list and pray for each person by name. You may choose to lay hands on the paper together. Bring this list out regularly (once a week or once a month) to pray as a group. 
---
Debrief Together   
How do you feel about the lists we created today? What happened in your heart as we wrote down the names and prayed?  
Why do you think we added the list of those we avoid? How might God want to grow us as we take steps to love them through prayer?
Who are you most motivated to pray for and invite? Why?
How might God be stretching us as a community through our prayer wall? 
---
Final Interpretation and Invitation to Love & Courage 
Connect the dots for the team. Interpret why this exercise is important. For example, you might say, "I believe God wants to transform us as we pray for others. I believe he wants to grow us as a courageous and welcoming community, to even include those we might naturally avoid. I hope we're surprised a year from now when we look back at this prayer wall and see that some of these people have joined us and become a part of our InterVarsity community. I'm also excited to see how the community is blessed by the people on this list. What's one next step of love and a step of courage you want to take this week?"
---
Pro Tips
Using network maps: For some chapters, this communal prayer wall nicely enhances the practice of creating personal network maps. This exercise can help us see more people than we might have included in our first draft of our network map, including people we avoid. God can use this communal tool to expand our vision and hearts. In addition, doing this together creates a level of inspiration and accountability for prayer, bringing you closer together as a team. 
If you use this prayer wall over the summer, we suggest that students list their summer community instead of friends on campus from last semester.  
You probably do not want to use the prayer wall during the first week of New Student Outreach (NSO), because the first weeks of school are often particularly busy. But it would be a great way to wrap up your NSO season. You might wish to create a fourth column, in which you add all the people who filled out contact cards and invite your core to include them on their prayer list.