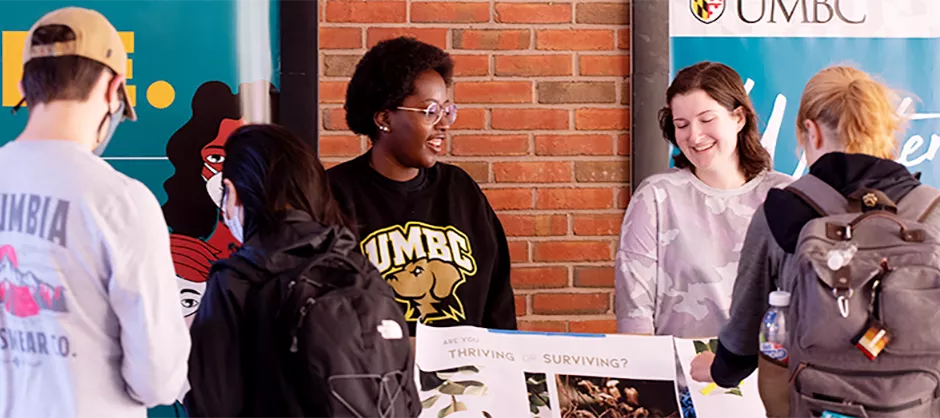 How to Host An Interest Table  
Here's a not so well-kept secret: students are longing for real friendship and deep community. We have the honor of welcoming students through tabling during New Student Outreach (NSO).  
In this resource, we want to help you overcome the awkwardness of meeting strangers. The truth is, some people you meet will be interested in what you have to say, and some will not. That's okay. What you'll ultimately gain is well worth it: new friendships and the opportunity to change lives! 
Why Host a Table during NSO: 
Tabling is a great way to connect with new students in a casual yet personal way. As students approach your table, you'll have the chance to get to know them and invite them to explore Jesus with you. If you do not table, they might miss you all year long.   
Inviting Students at the NSO Table 
It's not only important to connect with students, but to welcome and invite them well. Here are some tips to do that: 
Be friendly and smile. This may sound obvious, but people are more likely to come to your table if you seem approachable.   
Ask them about themselves. Ask about their favorite club in high school.  Athletes InterVarsity, for example, should ask students what their sport is.  
Conversation starters are key. Take some time beforehand to think through what you might say to new students. We recommend focusing on topics rather than memorizing scripts. The goal is not to sell them on something.

Topics to consider: 

What's your "why" for InterVarsity? Think of this as your "elevator pitch" but personalized based on your experience. Why do YOU love InterVarsity? What keeps you coming back week after week? Have a practical example that you can share of your favorite InterVarsity experience or event. Craft a brief explanation (3 sentences or less) you can have ready to go.  
Share a relevant story that connects to what's being offered. For example, if you're inviting students to your kickball night, you might explain what you got out of a past InterVarsity event. "I met Jennifer at last year's flag football event and we went to bible study later. Now, she's my best friend!" 
Other good conversation starters include basic questions such as: Where is home for you? Where were you born? Where did you grow up? What other tables have you stopped at? How have your first few weeks on campus been going? What brings you joy? 
Table as a Team  
Assess your team, and decide where your individual strengths work best. Some of us are inquisitive and ask good questions. Others are good at small talk and can chat with all kinds of people. Others are better at making sure everyone has the information they need to join our community. 
If you have more than one person helping you at the table, you can split up roles like this: 
Gatherer- is shameless and will talk to anyone. This person can either stand right in front of the table or some distance away. Their job is to engage people and move them towards the table. Gatherers are especially important when no one is stopping by your table. 
Closer- This person's job is to make sure people fill out a contact card before they leave your table.  
Welcomer- This person is ready to be friendly and talk with all sorts of people who come up to your table. They are ready to share their InterVarsity "elevator pitch" and ask questions to get to know each person. 
This course offers more tips for making compelling invitations at your table.   
What to Bring to Table 
Don't underestimate the power of presentation. Try to make your table display as attractive as possible. Remember to bring your banner, tablecloth, swag (stickers, cups, t-shirts, pens), sign-up sheets or contact cards, flyers, etc. This helps the table look friendly, attractive, and intriguing.  
Contact Cards 
It can be easy to forget about contact cards, especially if the conversation is going well. Good tabling leads seamlessly to good follow-up. But you need their phone number to reach out.  
---
Pro Tips 
Here are four things to make your tabling even more fruitful. 
Have a gift to incentivize follow-up. Tell them before they leave the table that you (or someone) will drop off a care package or some other small gift. Let them know they'll receive these gifts by a specified date. 
Use a reminder app like this one for students who seem hesitant about giving away their phone number. This app will keep students up-to-date on events and you can even include a QR code at your table for easy access to the app. 
After they leave the table, quickly write down a few details on the back of the contact card. Write down your name, or the name of whoever first connected with them. Also, you might include any topics that they were interested in or what they were like in high school.  
End the tabling by praying for contacts and assigning follow-up tasks. 
You can even have a "calling" or "texting" party where all the leaders in your chapter gather over snacks and everyone makes follow-up calls to all the students that filled out a contact card. Plan to do this a couple days after initially meeting students and have an event ready to invite them to when you call!